Students Engaged with Campus IT Leadership at Involvement Fair
OIT News
| Sep 6, 2023 | By Nicole Johnson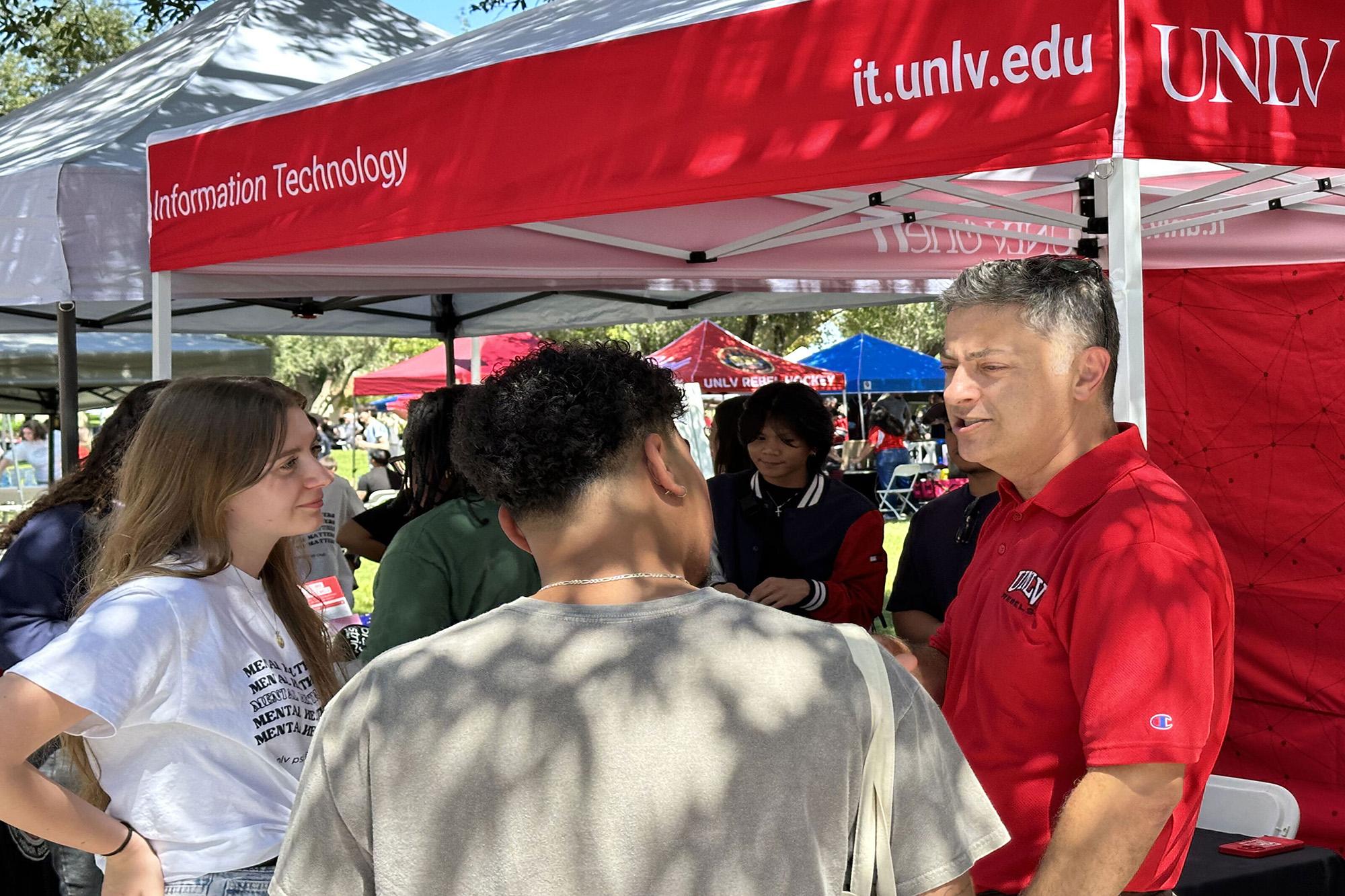 UNLV students interested in pursuing a technology career talked to IT leaders from the Office of Information Technology (OIT) during the Involvement Fair on Sept. 6 that spanned the Academic Mall, Alumni Amphitheatre, and Pida Plaza.
Kivanc Oner, vice president for digital transformation & chief information officer, and several members of the OIT leadership team connected with students about their interest in IT. They also encouraged students to apply for jobs that are available within the department.
"We were able to explain to students that IT has a wide variety of job opportunities, regardless if they have a technical background or not," said Rakitha Perera, media applications developer for OIT. "Working in OIT is a great opportunity for them to get real-world experience for any career they want to pursue."
The Involvement Fair is an opportunity for new and returning students looking for employment, volunteer, and bonding opportunities to visit information booths for hundreds of registered student organizations, departments, and local community organizations.
Students who visited the OIT booth were able to get technology support from members of the IT Help Desk and learn about IT services for students, including LastPass, a password manager that offers premium accounts to students for life at no cost.
OIT's participation in the Involvement Fair was possible by a number of IT employees, including:
Julie Acheson, public service intern 2
Jeremie Campos, IT technician 4
Leeza Fazel, IT technician IV
Maxine Franks, information security analyst
Laura Gardner, IT Help Desk supervisor
Tiffany Hilk, administrative assistant 3
Jacob House, IT support specialist - application support & training
Hector Ibarra, interim associate director of client services
Nicole Johnson, senior IT strategic communication specialist
Matt Kole, interim associate director of network development and engineering
Randall Lantaya, public service intern 1
Kivanc Oner, vice president for digital transformation & chief information officer
Rakitha Perera, media applications developer
Vito Rocco, chief information security officer,
Bob Soulliere, associate director of instructional technology services
Carrie Trentham, interim senior associate vice provost for digital strategy & transformation
Amy Wong, IT Help Desk student tech trainee