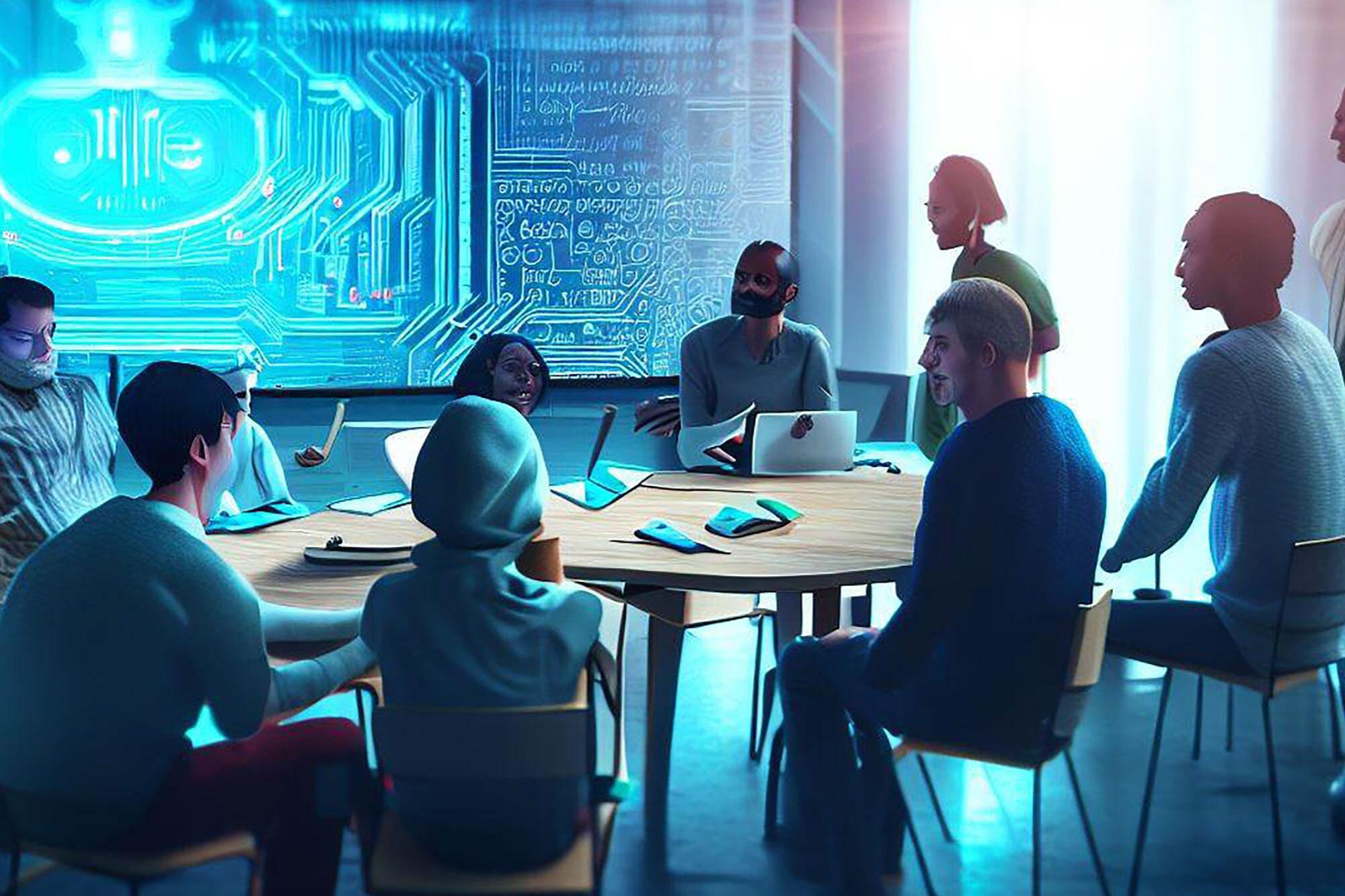 Instructors and employees learned about generative artificial intelligence (AI) platforms, like ChatGPT, AI detection in TurnItIn, and Stable Diffusion for realistic photo images, during a workshop hosted by the UNLV Faculty Center on April 28.
The workshop sparked conversations about the use of AI, including the risks and benefits, and the potential impact on higher education and academic integrity among instructors, employees, and technologists from the online education and information technology offices.
Technologists shared how they use AI to be more efficient in their jobs and how students may use it for coursework throughout the workshop.
ChatGPT AI Content Generator
Steve Ochsner, who works as the endpoint services manager for OIT, showed how ChatGPT, an AI language model developed by OpenAI, helps him generate formulas for spreadsheets and analyze data quickly.
"I'm not familiar with spreadsheet formulas and normally use Google to help me," said Ochsner. "Now, I use ChatGPT to give me formulas that I can use to process raw data into something I can use, cutting down the time I spend on creating spreadsheets so I can focus on other parts of my job."
According to ChatGPT, it can also be used to answer questions; generate text, which can be helpful for content creation; translate language for people who speak different languages; and assist with research and education by providing information related to a specific topic.
TurnItIn AI Detection Tool
While many gathered to preview the new AI detection in TurnItIn, instructors discovered the feature isn't 100 percent accurate. It generated a conversation about how students have used ChatGPT to interpret language or fix grammar, which would have been flagged as unoriginal content by TurnItIn.
Yvette Aqui, OIT's senior IT application administrator for the university's learning management system, said TurnItIn's AI detection is a good indicator that instructors can use but not rely on due to some flaws. She teamed up with Alethea Inns, an instructional technology support specialist in OIT, to demonstrate how the tool detects ChatGPT-generated and original content.
"TurnItIn's AI detector isn't perfect, and instructors should still review submissions," said Aqui, after there were false positives of human-generated content. "If content is flagged as generated by AI, it may be an opportunity for instructors to talk to their students about the information."
Stable Diffusion Visual AI Model
Gardening enthusiast Rakitha Perera unveiled his vision for his blossoming backyard oasis with realistic images created by Stable Diffusion. During the live demonstration, the OIT media applications developer asked the AI tool to build backyard images by following the prompt, "desert backyard with rose bushes and walking path down the middle with stepping stone."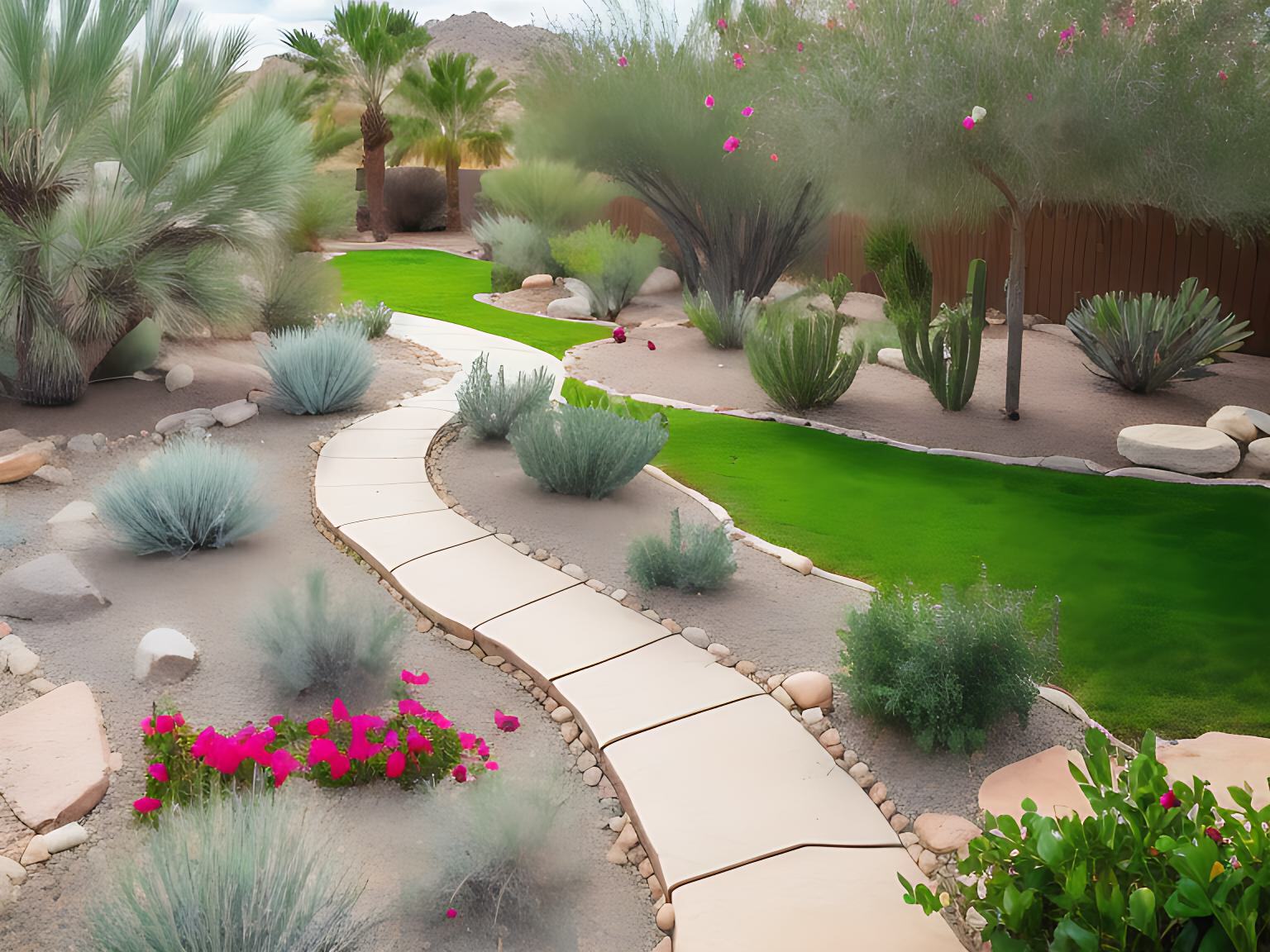 Perera said he used the images as inspiration, developing his own style throughout the garden design process. He's seeing more students using Stable Diffusion for specific art projects while companies are using it, too, possibly to speed up production.
"Some are using these tools to generate architectural renderings which would generally be very time consuming and unique to certain projects" Perera said. "By utilizing these generated renderings as starting points for their final projects, they can circumvent costly renderings during the initial planning stages."
Stable Diffusion is open source, which means there are no regulations on photos, and images can come from anywhere on the internet. When it comes to AI-generated images, users should be aware of the limitations.
"They often provide users with randomly-generated images and limited options for control where things go to precisely match the user's desired look," said Perera.
Future of AI at UNLV
This isn't the first time AI has been talked about at UNLV. Just ask Digital President Whitfield.
The workshop allowed instructors and employees to learn more about AI technologies. The demonstrations created engaging conversations, spurring excitement among instructors, employees, and campus technology professionals as UNLV explores more cutting-edge innovations.
The time is now to embrace AI as part of our everyday lives, and UNLV is ready for these game-changing technologies.