OIT Participates in UNLV Micro-Externship Designed to Improve Advisor Retention
OIT News
| May 17, 2023 | By Nicole Johnson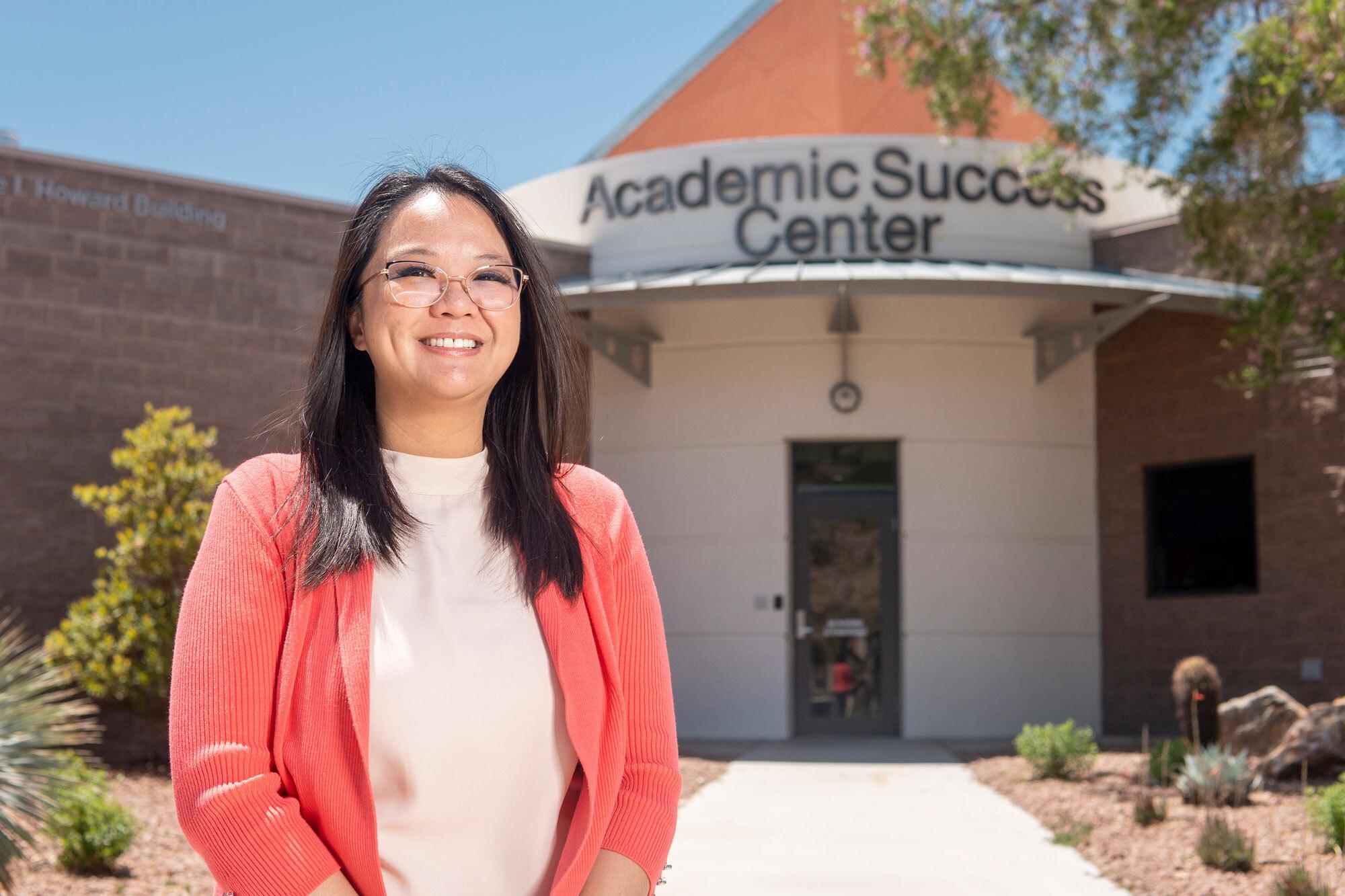 When Jacquee deJesus ('09 BA Interdisciplinary Studies and '11 MA Educational Leadership) signed up for a new professional development opportunity, the academic advisor wanted to learn more about campus resources so she could better support students. She never imagined the amount of valuable information she'd obtain after touring campus with employees from the office of information technology as part of an micro-externship program.
As advisor retention and recruitment continues to be a nationwide challenge, UNLV created the micro-externship program to improve academic advisors' wellness and avoid burnout, after receiving a $30,000 grant from the Stupski Foundation. The micro-externship program allowed advisors and campus partners to share what they do with each other, opening possibilities to work together more closely on future decisions that improve student success.
For someone who worked in the computer labs as a graduate student for a semester, deJesus was excited to be paired with the office of information technology (OIT) for the micro-externship program. Going into it, she wanted to know what information would help the students she meets with, what can she take back to her advising team, and how can these new relationships help when issues arise.
"I wanted to understand the processes OIT uses for technology resources specifically for students, like the checkout process for the laptop loan program," deJesus said. "I was also interested in Google Workspace and how faculty can use the different Google applications to help students."
Between March 6 and April 7, deJesus toured the campus operations center, learned how to set up a computer, watched as IT Help Desk employees helped customers fix problems they were having with technology, and discovered how someone can change their preferred name in WebCampus, among other IT-related things.
"This was the first time OIT participated in a program like this," said Hector Ibarra, interim associate director for client services in OIT. "Jacquee has a passion for helping students and wants to make things better for them. She was inquisitive and wanted to understand why we make certain upgrades or changes, asking about Zoom and Google storage limitations, and gave feedback along the way that we're already implementing to our IT support portal."
The information sharing between the advising team's needs and OIT was great, according to deJesus. But it was the small details that piqued her interest and really resonated with her, like not turning off your computer so it can run updates regularly or that security keys are available to students too for multifactor authentication.
Thanks to Frank Alaimo, interim manager for classroom technology services, deJesus also got to see high-tech spaces in action. She toured a RebelFlex classroom, where instructors can teach in-person and remote students at the same time; the Makerspace in the Lied Library that has 3D printing, laser cutting, and multimedia production studios; and the golf simulator, where she saw 3D analysis of a golfer's movement.
Matt Buk, manager of computer facilities, appreciated deJesus' reaching out to OIT to learn more about the technology that's available to students.
"Our common interest is making sure students get the most out of their college experience," he said. "We made sure to cover different services that are available to students in computer labs and other computer-based rooms, regardless if they're on campus and remotely."
Buk showed how RebelApps works and gave a tour of a computer lab that has huddle rooms for collaborative work in the Thomas T. Beam Engineering Complex and a space in Hospitality Hall that serves as a classroom and lab since it can drop and hide computers inside the desk.
The micro-externship has been a positive experience for everyone involved. It's already opened new doors for OIT to get involved and help solve pain points that academic advisors and their students may encounter.
"I invited Hector to attend our technology commission," said deJesus. "I thought it would be beneficial to have someone from OIT there so that members can hear directly from experts about what's happening with campus technology and get answers to their questions."
Academic advisors are critical to student success. Having a personalized connection and ample resources will help OIT support them in their role.
"There's definitely an opportunity to build stronger connections beyond this micro-externship," Ibarra said. "We're looking to engage other groups to better understand each other's roles and get them more involved when we plan major projects, so that everyone can have good experiences with campus technology."